Adding texture to any room in your home increases its appeal and effortlessly makes it less flat. The idea behind adding texture is to put in more energy and dynamic into your kitchen. Why should you leave the heart of the home devoid of design details or visual substance?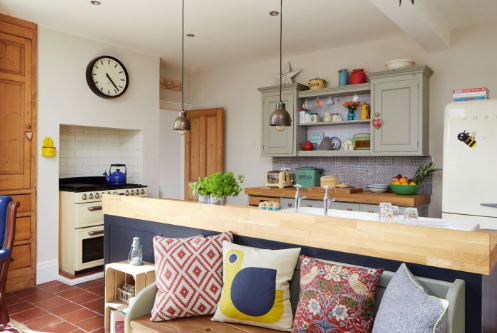 House cleaning Newton MA put together a list of ideas for you to create appealing textures for your kitchen. For homeowners renovating their first kitchen of for those who are trying to make their old kitchen feel more alive, this one's for you!
Fabric for you chairs/stools
Fabric adds a different material to your overall kitchen scene. Adding upholstery or fabric to your stools or chairs instantly makes the kitchen cozier than before. If you are not keen on fabric, use rattan chairs instead – the coarse texture adds strong visual depth to the space.
Feature wall
Pick a wall that you want to draw attention to. Use a graphic print, wallpapers, or simply a backsplash to be playful with your kitchen.
Greens
There is something about greenery around the kitchen that just adds to the feel of the space. Big leaves, huge peonies, or tall plants bring life to your kitchen – quite literally – and make your kitchen more personal. Have you tried placing them hanging from you ceiling or above your refrigerator?
Vases
Details are always worth looking into. Besides looking at the kind of backsplash or feature wall you would like to add to your kitchen, see if small details like adding a charming vase could win you over.
Tiles
Patterned tiles add sophistication to your kitchen. It creates more visual texture to the space, punctuating the space in a creative way.